RS Tour de Branch with Polaris
From the 8th until the 19th of June the Zerynth-powered Polaris will be tracking cyclists, on their journey through the UK, as they cover over 1000 miles as a way to raise funds for children with cancer.
Thanks to the joint effort of the RS Components, Zerynth, and Fortebit team the Python programmable Polaris will offer weather (temperature, humidity, and pressure) data and air quality data along the whole 1100 miles of the Tour de Branch.
Tour de Branch – Raising funds for Children with Cancer UK
Tour de Branch is the biggest challenge the RS Components team has ever set out to do. The RS team will be cycling from the local branch in Aberdeen to the London HQ. They will be going along real roads and visiting 16 RS branches on their way. All this so that funds could be raised for children with cancer in the UK.
The goal is to raise £250,000 for Children with Cancer UK. With over 60 cyclists, during the 12 days of the race, that goal looks closer than ever.
Polaris on two bicycles – gathering air quality and weather data
Every penny goes towards making a difference in the life of a child that's fighting cancer. Thanks to the addition of the two Polaris boards on two bikes everyone will be able to get precise temperature, humidity, pressure, and air quality reading from the whole 1100 miles of the race.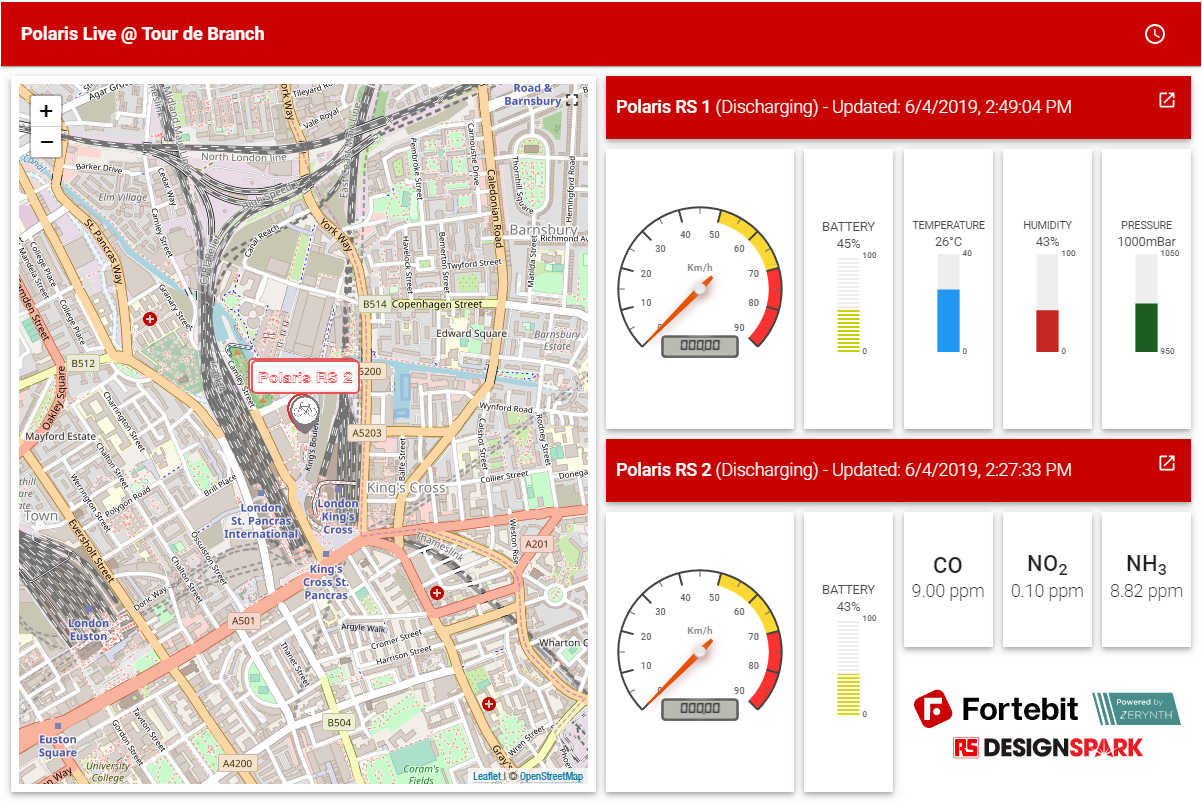 By the end of the race, we will gather air quality data from all corners of the country. We hope this data also helps in the fight against cancer, as air pollution represents one of the causes of lung cancer.
Polaris will be tracking the levels of CO, NO2, and NH3 in the air. Now, NO2 or nitrogen dioxide is mainly the result of road traffic and energy production. Since NO2 is one of the causes of respiratory diseases like bronchitis, we hope that the data we present by the end of the race helps to improve air quality in certain areas of the UK.
What is Polaris?
Polaris is a Python programmable Zerynth powered open IoT platform, designed for remote logging and Cloud applications. It is an excellent GPS/GLONASS vehicle tracker, available with 2G, 3G, LTE, NB-IOT modem. The Polaris application, available in Python Zerynth or Arduino, is open source so that it can be easily changed and customized.