We're happy to let you know that our partners from Zerynth have been a part of an IoT project, called Close To Me, that can help the fight against COVID-19.
Zerynth teamed up with the University of Pisa, Sensor ID, nextome, and Erre Quadro to make a smart wearable device that measures the distance between people and determines what is safe.
So, to be more precise, Close To Me is a system designed to monitor safety distances in production environments. Innovation Post, one of Italy's best magazines about innovation and smart technologies, has made a great article about it.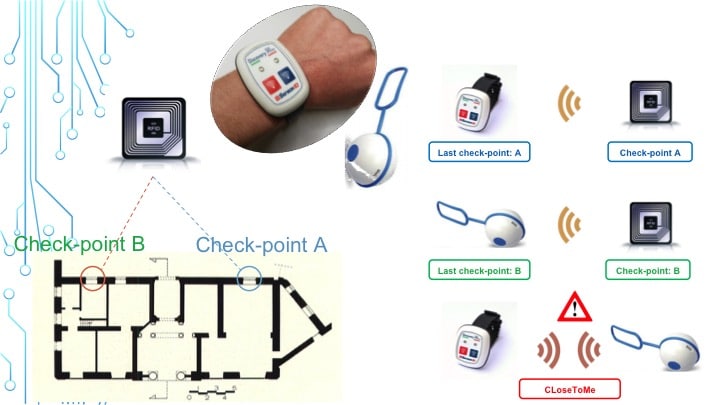 "We gathered around a virtual table to try to understand what the needs of the companies would have been once the activities were resumed."  says Gualtiero Fantoni, Zerynth's co-founder and an associate professor of the University of Pisa. "Our university team has sought, within the context of startups and companies created by our alumni, solutions already used for other purposes, such as logistics within the workplace, security, reality monitoring dangerous or execution times of the various operations ".
We hope that a solution such as this one, will make the workspace safer. We hope it will make the people within that space feel secure. During this global crisis that we are facing, it is important to band together and use our knowledge and experience to help as much as we can.
Close To Me – how it works
Let's take a look at how Close To Me works.
The devices, either bracelets or key rings, indicate when two people are at a distance of less than 1.8m. If they are closer than the set distance, it sends an alert to the wearer. Also, it keeps the identification code of the person whose contact has been registered stored.
The distance itself is determined based on the strength of the signal that the device is emitting. This limit can be altered, to fit the needs of the company and workspace it will be used in.
You can find out more about the device here, or watch the interview with Gualtiero Fantoni, held by Innovation Post: